Taco Bell Stays on the Offensive
Using lawsuit to its advantage
In the wake of blunders like Chrysler's errant tweet in March, I've written how instead of taking typical corporate approaches – public firings, finger pointing, contrived PR – companies should spin this mass negative attention and use it to their advantage.
Case in point – Taco Bell, who continues to go on the offensive with a new ad campaign attacking Beasley Allen, the law firm responsible for filing, and then withdrawing this week, a false advertising lawsuit against the chain for claiming to use "seasoned beef" or "seasoned ground beef" in its offerings.
The January lawsuit stated that Taco Bell misleads consumers, and that it actually serves "taco meat filling," using "extenders" and other non-meat substances.
When this lawsuit initially broke, I figured Taco Bell would take the typical corporate approach and settle, counting a few million lost as better than the negative attention that months of litigation would cause.
Of course, the ambulance chasers thrive on this, but my favorite fast feeder took the high road by defending its product and scoring lasting branding points in the process.
Taco Bell reacted quickly to the lawsuit, launching an aggressive national campaign within days that included full page ads in national and local publications and YouTube videos telling consumers what ingredients are actually in its beef.
The latest victory campaign uses the same mix, including print ads developed by AOR DraftFCB that read "Would it kill you to say you're sorry? in large, bold type followed by: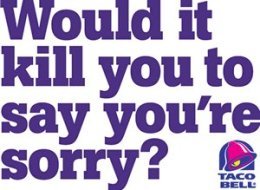 "The law firm that brought false claims about our product quality and advertising integrity has voluntarily withdrawn their class action suit against Taco Bell. No changes to our products or ingredients. No changes to our advertising. No money exchanged. No settlement agreement. Because we've ALWAYS used 100% USDA-inspected premium beef."
Like the previous campaign, CEO Greg Creed has also posted a video on YouTube speaking about the lawsuit's withdrawal.
---
{lg_social_bookmarks title="Taco Bell Stays on the Offensive" permalink="http://www.dailyvista.com/blog/comments"}